Laura's similar perspective on the need to build bridges in the climate justice movement.
Tutus And Tiny Hats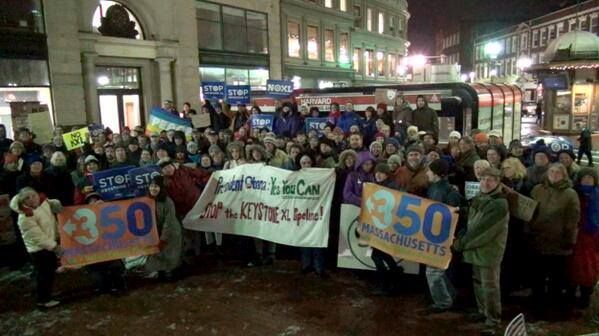 I'm somewhere in here. (source: 350MA Facebook page)
Last night, I attended a last-minute vigil protesting the Keystone XL pipeline, inspired by the State Department's release of a report that green-lighted it.
It was heartening to be part of such a large crowd assembled at such short notice–there were over 200 people gathered in Harvard Square alone, and it was one of multiple events in the Boston area. It felt good to sing and chant and hold signs, to make our unequivocal "NO!" to climate destruction heard. It was heartening to feel the warmth of community, of spirited resistance, on a snowy day.
And yet. I looked around at all the white, middle-class, crunchy/hippie/folkie faces and thought, "We're never going to succeed if we can only appeal to people like ourselves."
We can only save the world if we can build bridges, if we can build a movement that…
View original post 752 more words